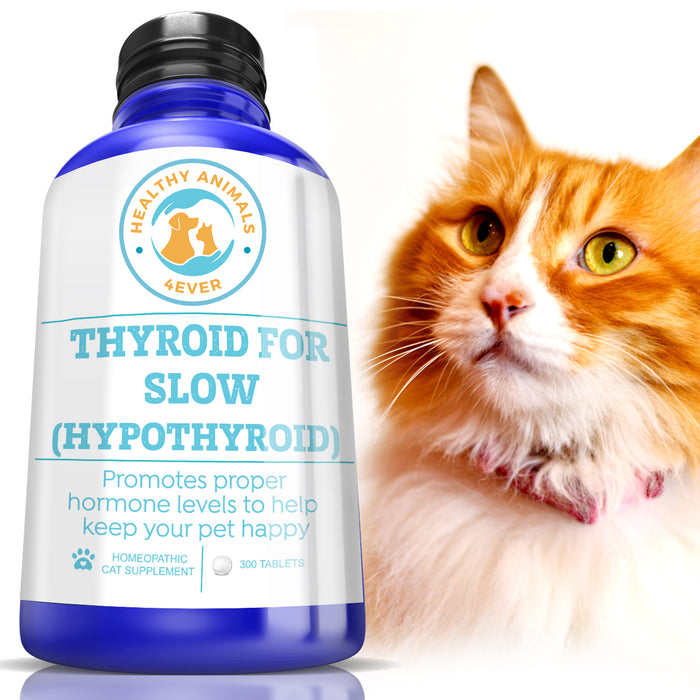 Natural Hypothyroidism Support Formula for Cats, 300 Pellets, 30-Day Supply
Save

23

%
Save

23

%
Original price
$38.99
-
Original price
$38.99
All-natural Formula
Hormone Production Enhancement
Energy and Mood Boost
Easy to Use
100% Satisfaction Guarantee
All-natural formula: Our thyroid formula for cats contains all-natural ingredients to induce proper hormone production and help enhance metabolism without side effects.
Enhances hormone production: This cat thyroid product controls hormone production and enhances metabolic rate to help regulate the body's heart, digestive, and muscular systems.
Boost energy levels: Our cat hypothyroid support has a special formulation that promotes proper hormone levels to help keep your pet happy and less tired.
Easy to administer: Your cat should take 3 to 5 pellets 3 times per day for best results. The convenient pellet design allows you to give this homeopathic remedy to cats directly, in their water or food.
100% satisfaction guarantee: Our cat hypothyroidism remedy comes with a 100% satisfaction guarantee. We stand behind our products and highly value customer satisfaction.
What causes hypothyroidism in cats?
Hypothyroidism occurs when your cat's thyroid is not producing enough thyroid hormones to regulate its metabolism, which causes it to slow.
In most cases, this condition occurs in cats who have undergone surgery or iodine therapy to treat hyperthyroidism.
In rare cases, it can be caused by cancer, iodine deficiency, or thyroid gland abnormalities.
Symptoms of hypothyroidism in cats
Symptoms of this issue include:
Unexplained weight gain

Weakness

Intolerance to cold

Constipation

Hair matting

Neurological changes

Hair loss

Lethargy

Inactivity
If you notice these signs, you shouldn't leave your cat untreated, as this condition affects not only your cat's thyroid function but almost every other of his organs.
Why should you choose our formula?
Our hypothyroidism remedy for cats promotes the normal functioning of the thyroid and eases the symptoms that your cat may be experiencing. 
By doing this, your pet will feel a boost in its energy and mood levels. 
Our formula contains key ingredients in helping with hypothyroidism symptoms and the results come without any side effects. 
We stand behind our products and highly value customer satisfaction. So, our thyroid support product comes with a 100% satisfaction guarantee.
How to use this product?

1-2 pellets (small cats), 3-5 pellets (larger cats) by mouth, or put in the food/water. 3 times/day **Pellets don't dissolve quickly in water, and it's ok. Your pet is still getting a dose of the remedy. 

You can expect results within 7 days, but for more effective results, use our natural remedy for at least 30 days. Don't worry about the pellets not dissolving quickly into the water. This is normal. Your pet is still getting a dose of the remedy.
Ingredients
Calc PhosD30+30C, IodiumD12+100C, Lycopus VirD8+80C, Baryta CarbD12+100C,Medorrhinum D200+200C
Our site provides information regarding health and wellness, it is not a substitute for professional medical advice. You should always consult with your doctor or health care provider regarding your health concerns, and read all directions and information on dietary supplements prior to use.
*Claims based on traditional homeopathic practice, not accepted medical evidence. Not FDA evaluated.
Additional Resources that Can Help You Optimize Your Pets Health 
Click on the images for more info on related topics!