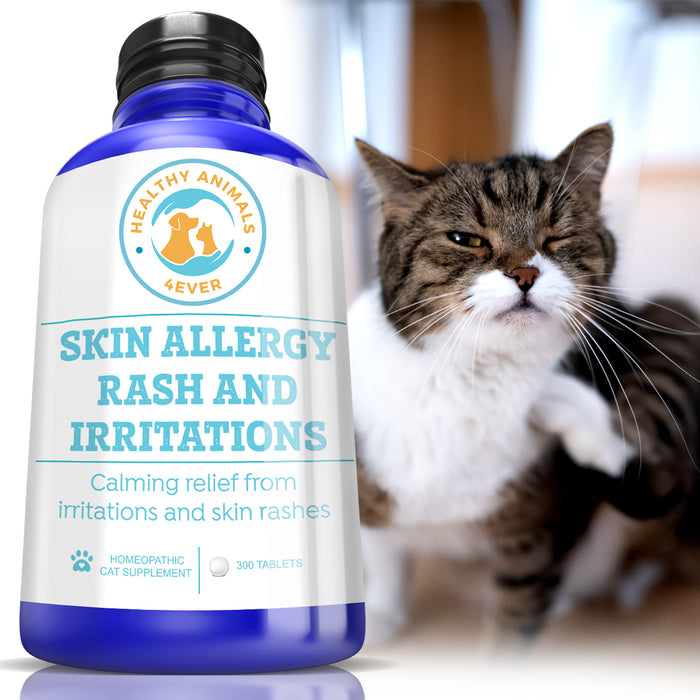 Skin Allergy Rash and Irritations - Cats
Save

23

%
Save

23

%
Original price
$38.99
-
Original price
$38.99
Natural Allergy Remedy for All Cats
Strong Organic Ingredients
Completely Safe & Natural
HELPS HEAL IRRITATED SKIN: Apis MellD3 and DulcamaraD5 ingredients have anti-inflammatory and antibacterial properties to help heal infected skin.
PROVIDES RELIEF FROM INSECT BITES: Compounds from the Ledum Palustre plant have analgesic and insecticidal properties to provide relief from insect bites.
SOOTHES POISON IVY ALLERGIC REACTIONS: Rhus Tox is a homeopathic treatment for poison ivy that protects cats against irritations when they are outside.
RELIVES SKIN RASHES: In hot weather, Urtica Urens gives calming relief from irritations and skin rashes.
COMES IN PELLET FORM: You can administer the dog skin allergy tablets orally or combine them with food or water.
What Causes Cats to Start Having Allergies, Rashes, and/or Irritations?
One of the most common causes of cat rashes and cat infections is allergic dermatitis, also known as atopic dermatitis. The most common cause of cat dermatitis is a flea allergies, contact allergies, food allergies, or allergies to bacterial flora or yeast on the skin. Your cat may also suffer from hay fever or may experience signs of asthma with symptoms such as sneezing and difficulty breathing. Also, your cat's skin might become dry and itchy because of food allergies, seasonal allergies, ticks, mites, and fleas.
How to Stop the Problem Before it Starts
Our 100% All-Natural Sensitive skin cat formula is specialized for cats with allergies, rashes, or irritations. It Relieves the itch and irritation caused by environmental allergens and skin irritants. Promotes faster healing. Try for 30 days and help to eliminate the problem. Or use it as prevention on your cat in times when you might think your dog is at risk or is just starting to have symptoms.
Why Choose our HealthyCat4Ever Seizure Natural Remedy?
The HealthyCats4Ever supplement is a cat skin rash treatment that soothes itching and promotes healing. Apis MellD3, a bee venom extract with anti-inflammatory properties to help heal irritated skin, is one of the active ingredients in the cat skin allergy remedy. DulcamaraD5 has antibacterial components that enable cat allergy formula to fight fungal skin diseases. The cat skin rash treatment is helpful against bug bites because compounds from the Ledum Palustre plant possess analgesic, antibacterial, antiviral, and insecticidal properties. If your cat is allergic to poison ivy, Rhus Tox has anti-inflammatory properties that can help protect her while playing outside. Urtica Urens is a homeopathic remedy for allergic responses and skin rashes occurring during hot weather. The cat skin allergy remedy comes in pellet form, making it simple to administer by mouth or mix with food or water.
Ingredients
Apis MellD3, Ars AlbD4, Calc CarbD10, DulcamaraD5, Ledum PalD10, Rhus ToxD4, Urtica UrenD3
To get the best results, do this:
1-2 pellets (small cats), 3-5 pellets (larger cats) by mouth, or put in the food/water. 3 times/day **Pellets don't dissolve quickly in water, and it's ok. Your pet is still getting a dose of the remedy. For best results, use for 30 days.
All our products come with a 100% satisfaction guarantee. We stand behind our products, and we highly value customer satisfaction.
Our site provides information regarding health and wellness, it is not a substitute for professional medical advice. You should always consult with your doctor or health care provider regarding your health concerns, and read all directions and information on dietary supplements prior to use.
*Claims based on traditional homeopathic practice, not accepted medical evidence. Not FDA evaluated.
Additional Resources that Can Help You Optimize Your Pets Health 
Click on the images for more info on related topics!