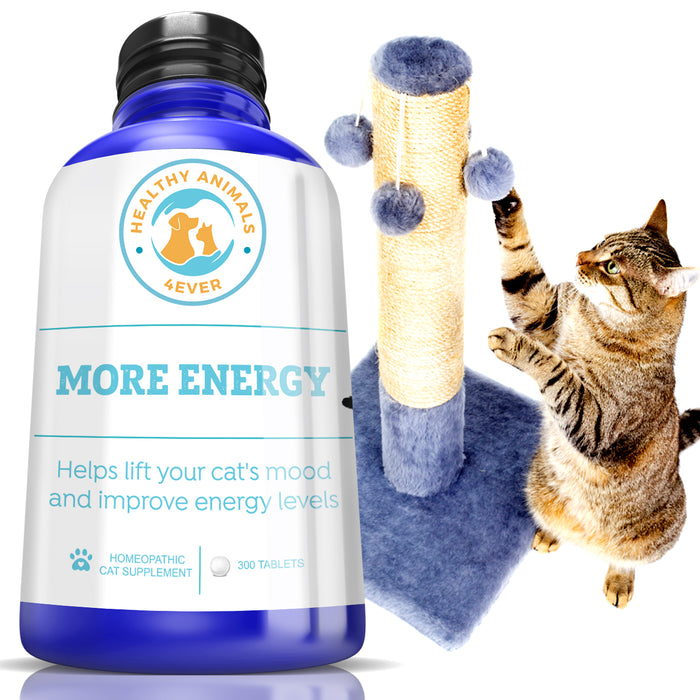 More Energy - Cats
Save

23

%
Save

23

%
Original price
$38.99
-
Original price
$38.99
Natural More Energy Booster Remedy for All Cats
Completely Safe & Natural
Product Key Features:
BOOST ENERGY LEVELS: Homeopathic remedy for cats feature energy-boosting formula that helps lift your cat's mood and improve energy levels.
MULTI-MINERAL SUPPORT: Cat energy booster offers multi-mineral support to promote healing, repair cells and boost metabolic function. It fosters optimal body function during old age. 
AGE-SPECIFIC FORMULATION: Mood enhancer for cats provides a special formulation that helps older cats cope with weakness, fatigue, and other health problems associated with aging.
EASY TO ADMINISTER: Give 3 to 5 pellets 3 times a day. Dissolve in water or mix with food. Pellets don't dissolve quickly in water, which is normal. Your pet still gets a dose of the remedy.
MONEY-BACK GUARANTEE:  Our natural remedy for cats comes with a 100% money-back guarantee. We stand behind our products and we highly value customer satisfaction.
What Causes Cats to Need More Energy?
If you have ever wondered why your cat acts like a couch potato while other cats are not? Your cat could be lethargic. If your cat is acting lethargic or is less active than usual, it is very important to pay attention to the clues she is giving you about it. Your cat may also have exercise intolerance and here's what to do about it.
How to Stop the Problem Before it Starts
You should take into consideration that each cat breed has different energy levels, and you would need to make sure their exercise levels match and are adequately met with your life/lifestyle and your home location. Prolonged tiredness should not be ignored. Your cat's lethargy problems could range from mild issues such as muscle pain, to more serious conditions such as congestive heart failure. Enhance your older cats' strength, health, and stamina with this HealthyCat4Ever More Energy supplement.
Why Choose our HealthyCat4Ever More Energy Natural Supplement?
This cat energy booster offers an age-specific formulation that helps improve your older cat's mood and energy levels. Its multi-mineral support promotes healing and helps increase overall health. The cat energy supplement contains active ingredients that help repair cells, boost metabolism, and keep your cat active throughout the day. Its anti-aging formula aid in the optimal function of your cat's muscular, digestive, and brain systems.

To maximize health benefits, administer this cat energy supplement formula continuously for at least 30 days. Give your pet 5 to 10 pellets 3 times a day and detect a noticeable change in your cat's vigor and vitality. You can dissolve these cat energy booster tablets in water or mix them with food to facilitate quick intake and easy absorption.
Age-specific formula designed to improve your senior cat's energy level and mood. Multi-mineral support promotes healing and helps increase overall health.
Ingredients
Carbo VegD50+50C, Ferrum PhosD6+60C, SilicaD6+60C, Kali CarbD50+50C, Calc PhosD6+60C, Nat MurD6+60C
To get the best results, do this:
1-2 pellets (small cats), 3-5 pellets (larger cats) by mouth, or put in the food/water. 3 times/day **Pellets don't dissolve quickly in water, and it's ok. Your pet is still getting a dose of the remedy. For best results, use for 30 days.
All our products come with a 100% satisfaction guarantee. We stand behind our products, and we highly value customer satisfaction.
Our site provides information regarding health and wellness, it is not a substitute for professional medical advice. You should always consult with your doctor or health care provider regarding your health concerns, and read all directions and information on dietary supplements prior to use.
*Claims based on traditional homeopathic practice, not accepted medical evidence. Not FDA evaluated.
Additional Resources that Can Help You Optimize Your Pets Health 
Click on the images for more info on related topics!