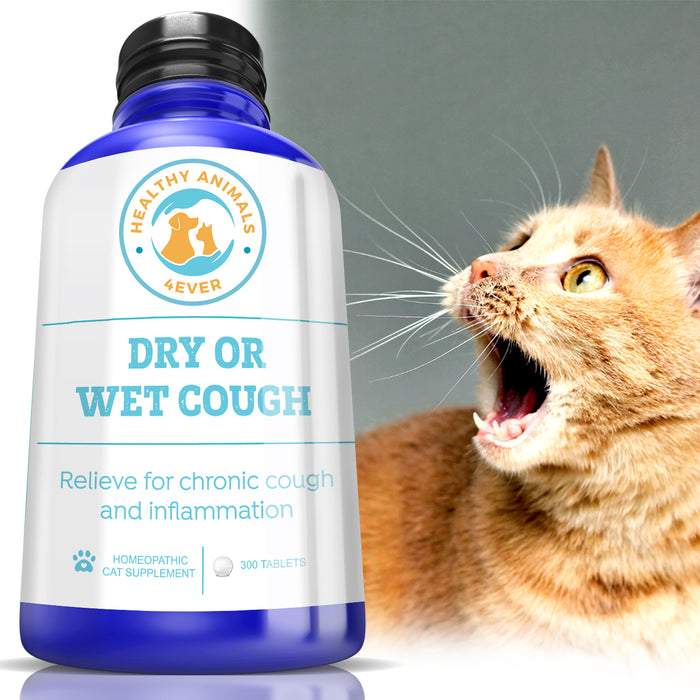 Dry or Wet Cough Formula for Cats, 300 Tablets, 30-Day Supply
Save

23

%
Save

23

%
Original price
$38.99
-
Original price
$38.99
Natural Remedy for Chronic Cough and Inflammation
Non-drowsy Relief
Lung Support
Easy to Use
100% Satisfaction Guarantee
Dry and wet cough suppressant: provides relief for chronic coughs and inflammation in cats. This special formula supports their trachea, and upper airways, and helps improve the immune defense of their lungs and throat.
Non-drowsy relief: an all-natural remedy that provides results without causing drowsiness. Simple effective symptom relief.
All-natural formula: Our remedy uses plant-based and natural ingredients which means they are 100% safe to use and have no side effects. Expect improvement within 7 days. For best results, use this cat inflammation remedy consistently for 30 days.
Easy to use: Administer 3 to 5 pellets of our respiratory support in your cat's food or water, 3 times per day. The pellets don't dissolve quickly into the water, which is normal. Your pet is still getting a dose of the remedy.
100% satisfaction guarantee: Our cat cough remedy comes with a 100% satisfaction guarantee. We stand behind our products and we highly value customer satisfaction.
What causes dry or wet cough in cats?
Your cat comes into contact with many things that can cause coughs, such as dust. Some other common causes of cat cough are:
long-term exposure to secondhand smoke
respiratory infections
asthma
inhaled foreign objects
heartworm
hairballs
When should you be concerned?
Occasional cough may be normal cat behavior, when they eat or drink too fast for instance, so it's not a cause to be alarmed. However, if your cat is showing repetitive coughing, especially with changes in breathing sounds or patterns, and if it sounds wet or dry, it can be a cause of a more serious problem, making it an important issue to deal with.
Why should you choose our formula?
Our cat cough relief remedy contains a highly effective formula with ingredients that are key factors in relieving dry or wet cough, and the results come without any drowsiness.
This product will help relieve your pet's dry or wet cough, reduce inflammation, and boost the immune defense response of the lungs and throat. It will also help boost your cat's natural healing process through an effective lung cleanse and detox. 
Our all-natural remedy is non-invasive and causes no side effects or harm to your pet.
We stand behind our products and highly value customer satisfaction. So, our cat cough relief product comes with a 100% satisfaction guarantee.
We have all experienced having a dry or wet cough, so we know how uncomfortable it is and how much we are eager for some relief. So, help your cat feel more relieved and give our completely safe product a try.
How to use this product?
1-2 pellets(small cats), 3-5 pellets (larger cats) by mouth, or put in the food/water. 3 times/day **Pellets don't dissolve quickly in water, and it's ok. Your pet is still getting a dose of the remedy. 

You can expect results within 7 days, but for more effective results, use our natural remedy for at least 30 days. Don't worry about the pellets not dissolving quickly into the water. This is normal. Your pet is still getting a dose of the remedy.
Ingredients
Cuprum AceticumD6, DroseraD3, GrindeliaD4, PecacD5, Lobelia InflataD2. NaphthalinumD12, Yerba SantaD4
Our site provides information regarding health and wellness, it is not a substitute for professional medical advice. You should always consult with your doctor or health care provider regarding your health concerns, and read all directions and information on dietary supplements prior to use.
*Claims based on traditional homeopathic practice, not accepted medical evidence. Not FDA evaluated.
Additional Resources that Can Help You Optimize Your Pets Health 
Click on the images for more info on related topics!