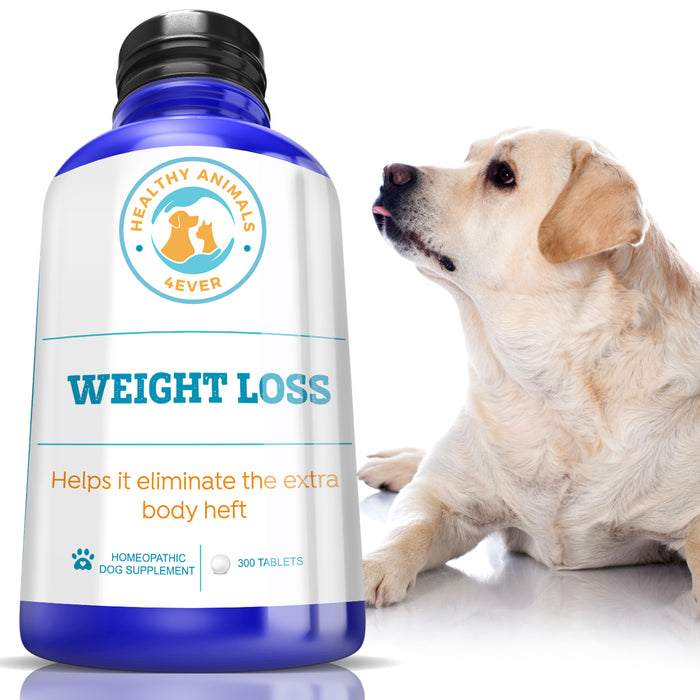 Weight Loss Formula for Dogs, 300 Pellets, 30-Day Supply
Save

23

%
Save

23

%
Original price
$38.99
-
Original price
$38.99
Reduces Overeating
Boosts Energy
Safe to Use
Easy to Administer
100% Satisfaction Guarantee
Reduce overeating: Our dog weight loss remedy reduces your pet's desire to overeat. Its active ingredients help preempt any health problems that may arise from being overweight.
Boost energy: This dog weight loss formula offers a natural energy-boosting formula that gets your dog to move and play more and helps to eliminate the extra body left.
Safe to use: This product is safe to use and its results come with no side effects. For the best results, administer this dog weight support formula to your pet for at least a month.
Easy to administer: Your dog should take 3 to 5 pellets 3 times per day for best results. The convenient pellet design allows you to give this homeopathic remedy to dogs directly, in their water or food.
100% satisfaction guarantee: Our dog weight loss remedy comes with a 100% satisfaction guarantee. We stand behind our products and highly value customer satisfaction.
What triggers weight gain in dogs? 
Dogs can gain weight for many reasons, including a poor diet, inadequate exercise, changes in metabolism, and certain types of illness.
The following also trigger weight gain in dogs:
Cushing's Disease
Diabetes
Genetic Predisposition
Lack of movement and overeating
Medication
Pregnancy
Stress
Thyroid disease
Signs that your dog is overweight
Loss of an obvious waist
Difficulty in walking
Slow movement
Shortness of breath
Bad temper
Sleeping more than usual
Why should you choose our product?
Our weight loss remedy for dogs helps reduce your pet's desire to overeat.
While doing this, the product also helps prevent the development of any other health issues.
If you administer this product to your dog, he will feel an energy boost which leads to weight loss.
We stand behind our products and highly value customer satisfaction. So, our product comes with a 100% satisfaction guarantee. 
Being overweight comes with feeling less energetic, which can lead to a mood decrease. Help your dog overcome this and give our product a try.
How to use this product? 
Give your pet 1-2 pellets (small dogs) or 3-5 pellets (larger dogs) in their food or water. Make sure you repeat the process 3 times per day. 
You can expect results within 7 days, but for more effective results, use our natural remedy for at least 30 days. Don't worry about the pellets not dissolving quickly into the water. This is normal. Your pet is still getting a dose of the remedy.
Ingredients
Adonis VernD3, Calc CarbD10, Fucus VesD1, GraphitesD10, Phytolacca BerD2
Our site provides information regarding health and wellness, it is not a substitute for professional medical advice. You should always consult with your doctor or health care provider regarding your health concerns, and read all directions and information on dietary supplements prior to use.
*Claims based on traditional homeopathic practice, not accepted medical evidence. Not FDA evaluated.
Additional Resources that Can Help You Optimize Your Pets Health 
Click on the images for more info on related topics!