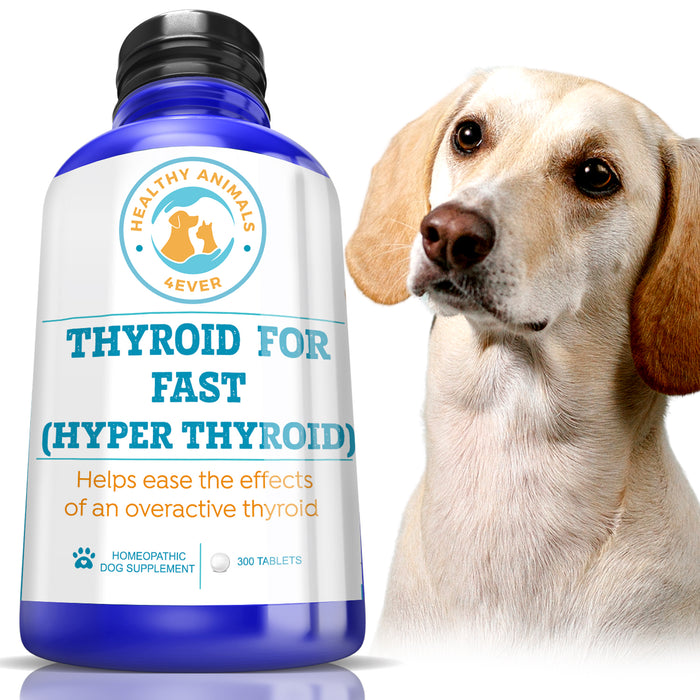 Natural Hyperthyroidism Support Formula for Dogs, 300 Pellets, 30-Day Supply
Save

23

%
Save

23

%
Original price
$38.99
-
Original price
$38.99
All-natural Formula
Hormone Production Regulation
Anxiety Relief
Easy to Use
100% Satisfaction Guarantee
All-natural formula: Our thyroid formula for dogs contains all-natural ingredients to maximize benefits and ease symptoms of hyperthyroidism without side effects.
Regulates hormone production: This dog thyroid product promotes proper hormone levels and metabolic function to help slow down an overactive thyroid gland and alleviate symptoms.
Relieves anxiety: Our product helps relieve and calm an anxious dog. It also helps ease the effects of an overactive thyroid such as increased urination, thirst, and appetite.
Easy to use: Your dog should take 3 to 5 pellets 3 times per day for best results. The convenient pellet design allows you to give this homeopathic remedy to dogs directly, in their water or food.
100% satisfaction guarantee: Our dog's hyperthyroidism remedy comes with a 100% satisfaction guarantee. We stand behind our products and highly value customer satisfaction.
What causes hyperthyroidism in dogs?
This condition in dogs is usually caused by a thyroid carcinoma, which triggers the excessive production of the hormone thyroxine, and, subsequently, an interference with the normal functions of the thyroid.
Other common causes are a raw food diet, thyroid cancer, and medication for hypothyroidism (a condition in which the glands don't produce enough thyroid hormones).
Symptoms of hyperthyroidism in dogs
The symptoms of hyperthyroidism include:
Weight loss despite an increased appetite
Excessive water consumption
Increased heart rate
Vomiting
Diarrhea
Congestive heart failure
An increased amount of stool.
Hyperthyroidism in dogs is uncommon, but if you notice the symptoms above, you should get your dog checked out right away. If left untreated, hyperthyroidism can lead to heart and kidney failure.
Why should you choose our formula?
Our hyperthyroidism remedy for dogs promotes the healthy functioning of the thyroid and eases the symptoms that your dog may be experiencing.
By doing this, our product also helps relieve your dog's anxiety and make him feel calmer, without any drowsiness.
Our formula contains key ingredients in helping with hyperthyroidism symptoms.
We stand behind our products and highly value customer satisfaction. So, our thyroid support product comes with a 100% satisfaction guarantee. 
If your dog is suffering from this thyroid issue, be aware that it's important to help him and keep him from getting bigger health problems. Help promote your dog's health and give our product a try.
How to use this product? 
1-2 pellets (small dogs), 3-5 pellets (larger dogs) by mouth, or put in the food/water. 3 times/day.  **Pellets don't dissolve quickly in water, and it's ok. Your pet is still getting a dose of the remedy. 
You can expect results within 7 days, but for more effective results, use our natural remedy for at least 30 days. Don't worry about the pellets not dissolving quickly into the water. This is normal. Your pet is still getting a dose of the remedy.
Ingredients 
Adonis ver D3+30C, Cactus grand D3+30C, Crataegus oxy D3+30C , Ignatia D3+30C , Lycopus virg D6+60C, Strophanthus D3+30C
Our site provides information regarding health and wellness, it is not a substitute for professional medical advice. You should always consult with your doctor or health care provider regarding your health concerns, and read all directions and information on dietary supplements prior to use.
*Claims based on traditional homeopathic practice, not accepted medical evidence. Not FDA evaluated.
Additional Resources that Can Help You Optimize Your Pets Health 
Click on the images for more info on related topics!