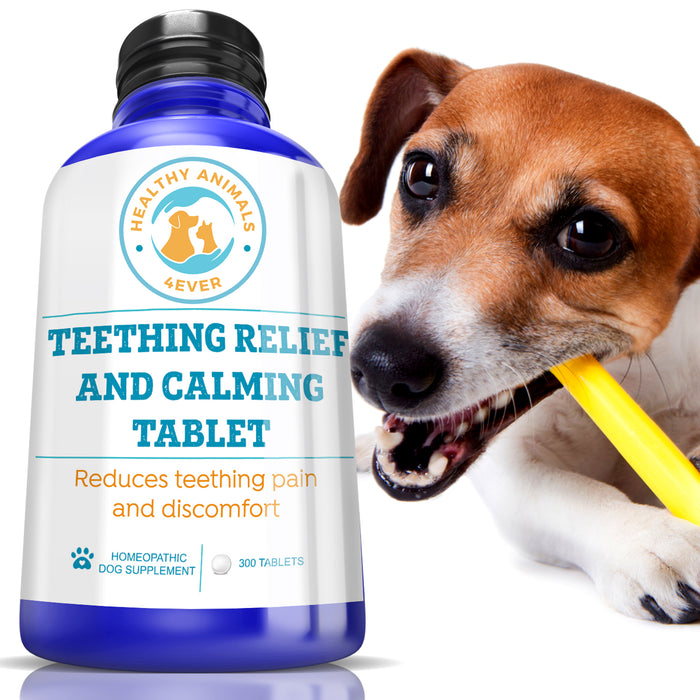 Teething Relief & Calming Formula for Dogs, 300 Pellets, 30-Day Supply
Save

23

%
Save

23

%
Original price
$38.99
-
Original price
$38.99
Promotes Calmness
Reduces Teething Pain and Discomfort
Helps Relieve Related Symptoms
Easy to Use
100% Satisfaction Guarantee
Promotes calmness in your dog: Our calming remedy for dogs helps anxious or irritable dogs relax. This remedy helps dogs who are irritable due to teething, storms, and other triggers.
Reduces teething pain and discomfort: Teething can be a stressful and painful time for pets, but this puppy teething product minimizes uncomfortable symptoms. It also relieves your dog's need to chew while teething.
Soothes other symptoms of teething: Teething tablets for dogs address several undesirable teething symptoms, including bowel discomfort and stomach pain. This helps your pet navigate this time with minimal stress.
Easy-to-use pellet formulation: Give your pet 3-5 in their food or water. Repeat the process 3 times per day. For optimal results, use our teething relief formula for at least 30 days. The pellets don't dissolve quickly into the water, which is normal. Your pet is still getting a dose of the remedy.
Safe and effective homeopathic formula: our natural remedies for dogs are safe to use and have no side effects.
What causes this problem?
Puppy teething, and chewing, are a way of relieving discomfort as your puppy's adult teeth come into place. This is a natural and healthy process that is crucial to your dog's development.
What does this problem look like?
If you're lucky, your dog won't experience much discomfort when teething. However, many dogs go through a lot of discomforting symptoms when going through this phase. 
The puppy teething process can cause symptoms like:
Red or swollen gums
Excessive chewing or nipping
Drooling
Small blood spots on your dog's toys
Crying or whining
 If this is your puppy's case, you may want to help relieve his discomfort. 
Why should you choose our formula?
Our dog teething relief remedy contains a highly effective formula with ingredients that are key factors in relieving its symptoms. Great results without any drowsiness, so you don't have to worry about an inactive dog. 
This product will help your dog feel more relieved and calmer while going through this process.
The best part is that our natural product is non-invasive, and causes no side effects and no harm to your pet. 
We stand behind our products and highly value customer satisfaction. So, our dog teething product comes with a 100% satisfaction guarantee. 
Teething is a natural process that babies go through as well. However, it can cause a lot of discomfort to your puppy. Give our product a try to help relieve your pet's symptoms. 
How to use this product?
1-2 pellets (small cats), 3-5 pellets (larger cats) by mouth, or put in the food/water. 3 times/day **Pellets don't dissolve quickly in water, and it's ok. Your pet is still getting a dose of the remedy.
You can expect results within 7 days, but for more effective results, use our natural remedy for at least 30 days. Don't worry about the pellets not dissolving quickly into the water. This is normal. Your pet is still getting a dose of the remedy.
Ingredients
(Calc Phos, Ferr Phos) 6x potency
Our site provides information regarding health and wellness, it is not a substitute for professional medical advice. You should always consult with your doctor or health care provider regarding your health concerns, and read all directions and information on dietary supplements prior to use.
*Claims based on traditional homeopathic practice, not accepted medical evidence. Not FDA evaluated.
Additional Resources that Can Help You Optimize Your Pets Health 
Click on the images for more info on related topics!