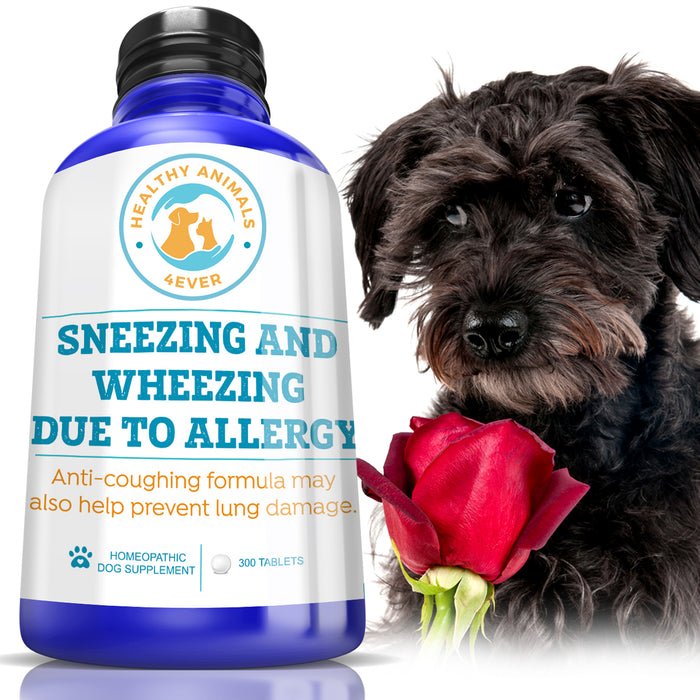 Sneezing and Wheezing Due to Allergy Formula for Dogs, 300 Tablets, 30-Day Supply
Save

23

%
Save

23

%
Original price
$38.99
-
Original price
$38.99
Reduces Sneezing and Wheezing
Prevents Lung Damage
Decreases Allergy Intensity
Easy to Use
100% Satisfaction Guarantee
Reduces Wheezing: Our dog sneezing remedy contains a special formula to reduce wheezing, breathing difficulties, cough, and fatigue in pets. Its anti-coughing formula may also help prevent lung damage.
Decreases Allergy Intensity: This formula's active ingredients help alleviate intense asthma attacks and allergic reactions, and clear breathing passages.
Easy to Use: Your dog should take 3 to 5 pellets 3 times per day for best results. The convenient pellet design allows you to give this homeopathic remedy to dogs directly, in their water or food.
Maximize Results: For maximum results, use this dog sneezing remedy continuously for 30 days. Dissolve the pellets in water or combine them with dog treats for easy intake.
100% satisfaction guarantee: Our natural remedy for dogs comes with a 100% satisfaction guarantee. We stand behind our products and we highly value customer satisfaction.
What causes this problem?
 Dogs can be allergic to many different things. The most common things that can cause sneezing and wheezing are pollen, mold, dust mites, and cigarette smoke.
Wheezing is also caused by the blocking of the normal flow of air in and out of the airway, as a symptom of respiratory distress. 
What do the symptoms look like?
Symptoms of sneezing and wheezing may come along with coughing. Although sneezing and coughing are easy to identify in dogs, wheezing is a bit harder. You may identify it because it sounds like a high-pitched whistling noise.
Why should you choose our formula?
Our dog sneezing relief remedy contains a highly effective formula with ingredients that are key factors in helping with allergies, and the results come without any drowsiness.
This product will help relieve your pet's sneezing and wheezing while decreasing the allergies' intensity and protecting their lungs.
Our all-natural remedy is non-invasive and causes no side effects or any harm to your pet. 
We stand behind our products and highly value customer satisfaction. So, our dog allergies product comes with a 100% satisfaction guarantee.
We have all experienced having allergies, so we know how uncomfortable it is and how much we are eager for some relief. So, help your dog feel more relieved and give our completely safe product a try.
How to use this product?
1-2 pellets (small dogs), 3-5 pellets (larger dogs) by mouth, or put in the food/water. 3 times/day.  **Pellets don't dissolve quickly in water, and it's ok. Your pet is still getting a dose of the remedy. 
You can expect results within 7 days, but for more effective results, use our natural remedy for at least 30 days. Don't worry about the pellets not dissolving quickly into the water. This is normal. Your pet is still getting a dose of the remedy.
Ingredients
Arsenic AlbD7, Atropin SulphD6, Blatta oriD3, GrindeliaD3, IpecacD6, NaphthalinumD7, Spongia TostaD4
Our site provides information regarding health and wellness, it is not a substitute for professional medical advice. You should always consult with your doctor or health care provider regarding your health concerns, and read all directions and information on dietary supplements prior to use.
*Claims based on traditional homeopathic practice, not accepted medical evidence. Not FDA evaluated.
Additional Resources that Can Help You Optimize Your Pets Health 
Click on the images for more info on related topics!