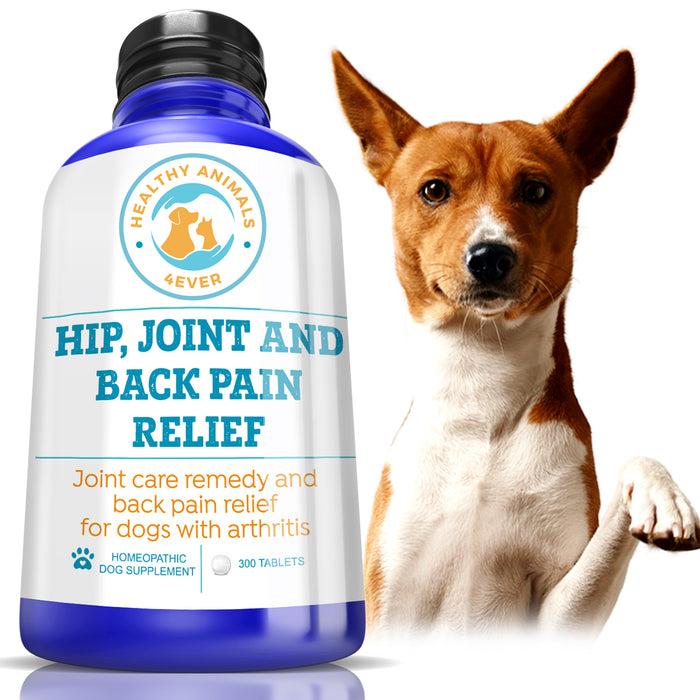 Hip, Joint and Back Pain Relief - Dogs
Save

23

%
Save

23

%
Original price
$38.99
-
Original price
$38.99
Natural Hip, Joint, and Back Pain Remedy for All Dogs
Completely Safe & Natural
Product Key Features:
JOINT PAIN RELIEF: Effective anti-inflammatory, joint care remedy, and back pain relief for dogs with arthritis.
REGULAR USE: Use these dog joint pain relief tablets for a minimum of 7 days for maximum relief
RAPID RESULTS: Fast acting formula allows this joint pain remedy for dogs to quickly improve your pet's well-being
PROPER DOSING: Give 3-5 dog pain relief tablets by mouth, or put in their food or water 3 times per day; **Pellets don't dissolve quickly in water, which is normal; Your pet still gets a dose of the remedy
CONTINUAL RELIEF: For optimal results, use this dog joint formula for 30 days
What Causes Joint and Back issues in Dogs?
Dogs can suffer from arthritis, and it is actually very common among dogs. The lead cause of arthritis and joint pain is usually caused by: injury, wear, and tear of joints over the years, abnormal hip development, different kinds of injuries, obesity, and/or genetics of the dog. There is no cure for arthritis, but you can take the remedy as a first step to make it ease the symptoms and make your dog feel better. Dogs of many sizes and breeds experience pain in the hips and other joints, both when younger and when advanced in age.
How to Stop the Problem Before it Starts
In order to stop/slow/ease the symptoms of arthritis, such as joint pain, such as limping, difficulty moving, stiffness in legs, hesitance to jump up or down, reduced activity, or reduction in weight -  try using our all-natural hip, joint and back remedy for dogs which may aid comfort, ease pain, irritability, the movement for a dog growing older and stiffer.
Why Choose our HealthyDog4Ever Joint and Back Pain Remedy?
Our proven all-natural and fast-acting formula helps the feeling of comfort and stability for your dog. A powerful homeopathic ingredient Ammonium Phos D3 is an excellent remedy for joint issues in dogs, especially for those with arthritis issues. There's also Rhus Toxicodendron to target arthritis pain and strained or cramped muscles. Pair this natural remedy together with proper nutritional support and promote the physical movement of the dog during the treatment in order to ease the symptoms as much as possible. Our remedy has been formulated specifically for hips, joints, and back pain and stiffness. It reduces the intensity of pain. It helps minimize joint pain and promotes normal joint function, mobility, and structure. Give your dog 5 to 10 tablets daily for a minimum of 7 days and for as long as 30 days to see optimal results. Give your dog our hip, joint, and back remedy tablets as many as 3 times per day. 
Ingredients
Ammonium Phos D3, Bryonia D4, Caulophyllum D3, Colchicum D2, Ledum Pal D3, Rhus Tox, Urtica Uren
To get the best results, do this:
1-2 pellets (small dogs), 3-5 pellets (larger dogs) by mouth, or put in the food/water. 3 times/day.  **Pellets don't dissolve quickly in water, and it's ok. Your pet is still getting a dose of the remedy. For best results use for 30 days.
All our products come with a 100% satisfaction guarantee. We stand behind our products, and we highly value customer satisfaction.
Our site provides information regarding health and wellness, it is not a substitute for professional medical advice. You should always consult with your doctor or health care provider regarding your health concerns, and read all directions and information on dietary supplements prior to use.
*Claims based on traditional homeopathic practice, not accepted medical evidence. Not FDA evaluated.
Additional Resources that Can Help You Optimize Your Pets Health 
Click on the images for more info on related topics!