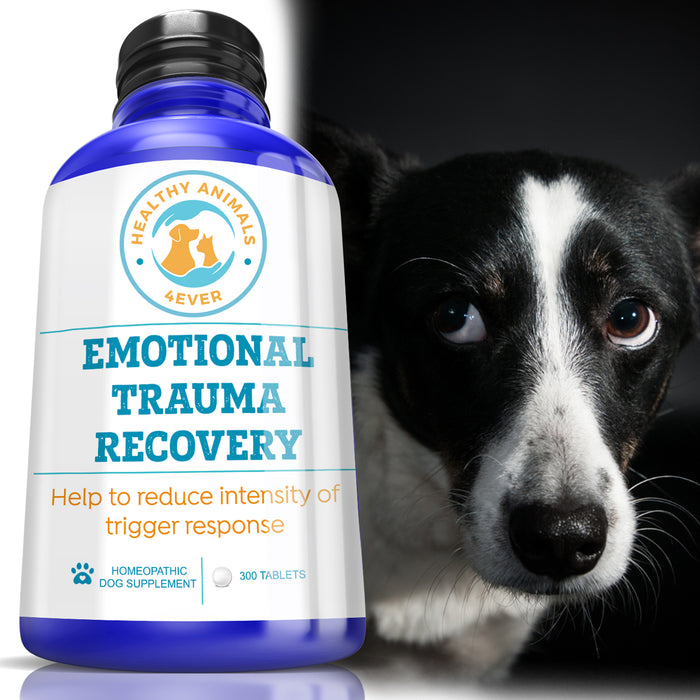 Emotional Trauma Recovery - Dogs
Save

23

%
Save

23

%
Original price
$38.99
-
Original price
$38.99
Natural Emotional Trauma Recovery Remedy for All Dogs
Completely Safe & Natural
Product Key Features:
KEEPS PETS CALM: Formulated specifically for rescue animals, dog trauma recovery tablets help to reduce the intensity of trigger response for easier animal handling and bonding
A BALANCED MOOD: Dog trauma treatment helps minimize anxiety, promoting calm behavior in pets to make adjustments in the environment easier
EFFECTIVE INGREDIENTS: Dog calming remedy contains homeopathic ingredients such as Ignatia, silica, and hypericum for effective, natural relief
DOSING INSTRUCTIONS: Give 3-5 dog anxiety tablets by mouth, or put in their food or water 3 times per day; **Pellets don't dissolve quickly in water, and it's OK; Your pet still gets a dose of the remedy
ADJUSTMENT PERIOD: For optimal results, use emotional trauma recovery for dogs for 30 days
What Causes Emotional Trauma issues in Dogs?
Dogs can suffer from PTSD (Post-Traumatic Stress Disorder). The lead cause of stress and PTSD issues among dogs is usually caused by one of these events: if they have been suffering from abuse, if they have been abandoned in the past if they lost their owner if they survived some kind of disaster or got hit by a car or maybe attacked by a predator.
How to Stop the Problem Before it Starts
In Order to stop the symptoms of emotional trauma in dogs, such as shaking, hiding, hypervigilance, easily being startled, agitation, fearfulness, urinating or defecation on something that triggers them, and/or avoidance of people. Try using our all-natural emotional trauma remedy for dogs which can help with emotional trauma, stress, fear, nervousness, anxiety, or depression your dog may be feeling.
Why Choose our HealthyDog4Ever Emotional Trauma Recovery?
Our proven all-natural and fast-acting formula helps the feeling of calmness in your dog. A powerful potency ingredient ArnicaD6+60C is an excellent remedy for emotional trauma in dogs, especially for PTSD issues. Pair this natural remedy together with proper nutritional support and play and socialize with the dog during the treatment in order to prevent the symptoms from ever happening in the future. Our remedy has been formulated specifically for rescue animals. It reduces the intensity of the trigger response. It helps minimize anxiety and promotes calm behavior. Give your dog 5 to 10 tablets daily for a minimum of 7 days and for as long as 30 days to see optimal results. Give your dog emotional trauma remedy tablets to the cat as many as 3 times per day.
Ingredients
ArnicaD6+60C, Ferr. PhosD4+40C, IgnatiaD7+70C, SilicaD6+60C, HypericumD7+70C



To get the best results, do this:
1-2 pellets (small dogs), 3-5 pellets (larger dogs) by mouth, or put in the food/water. 3 times/day.  **Pellets don't dissolve quickly in water, and it's ok. Your pet is still getting a dose of the remedy. For best results, use for 30 days.
All our products come with a 100% satisfaction guarantee. We stand behind our products, and we highly value customer satisfaction.
Our site provides information regarding health and wellness, it is not a substitute for professional medical advice. You should always consult with your doctor or health care provider regarding your health concerns, and read all directions and information on dietary supplements prior to use.
*Claims based on traditional homeopathic practice, not accepted medical evidence. Not FDA evaluated.
Additional Resources that Can Help You Optimize Your Pets Health 
Click on the images for more info on related topics!