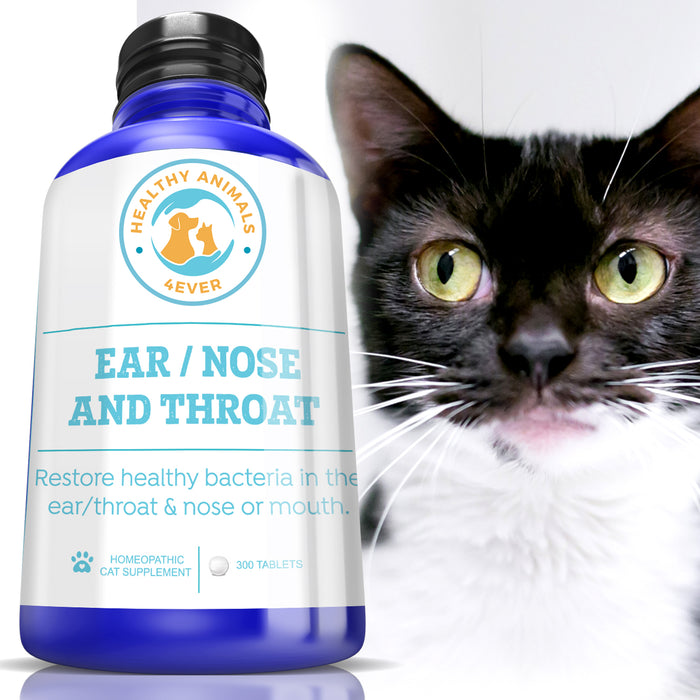 Ear Nose and Throat - Cats
Save

23

%
Save

23

%
Original price
$38.99
-
Original price
$38.99
Natural Ear, Nose & Throat Remedy for All Cats
Completely Safe & Natural
What Causes Ear, Nose, and Throat issues in Cats?
The lead cause of ear, throat, and nose issues among cats is usually one of these conditions:  Upper respiratory tract diseases, viral rhinosinusitis, nasopharyngeal polyps, stenosis, foreign bodies, neoplasia, laryngeal disease, or tooth root disease. Another big issue could be the Feline herpes virus (FHV) and feline calicivirus (FCV). Viral URT disease is especially common in kittens and stressed or immunocompromised adults.
How to Stop the Problem Before it Starts
In Order to stop the symptoms of ear, throat, and nose in cats, such as sneezing and nasal congestion, ocular discharge, nasal discharge, and skin ulceration– try using our all-natural ear nose and throat remedy for cats which can help reduce fever, coughing, skin changes, and pain that your cat may be feeling.  
Why Choose our HealthyCat4Ever Ear, Throat, and Nose remedy?
Our proven all-natural and fast-acting formula helps restore healthy bacteria in the ear/throat/nose or mouth. A powerful potency ingredient Calc CarbD10+100C is an excellent remedy for viral infections in cats, especially for upper respiratory tract diseases. Pair this natural remedy together with proper nutritional support and isolation of the cat during the treatment in order to prevent spreading or worsening conditions and to get rid of this unpleasant infection in the fastest possible time. This cat of ear, throat, and nose remedy works when given orally inside food or treats or when placed in a bowl of water to slowly dissolve over time. Provide cats with 3 to 5 tablets daily for a minimum of 7 days and for as long as 30 days to see optimal results. Give your cat ear, throat, and nose remedy tablets to the cat as many as 3 times per day.
KEY FEATURES OF OUR NATURAL REMEDY FORMULA:
EAR, NOSE, AND THROAT PAIN RELIEF: Our all-natural organic formula helps relieve pain and discomfort for cats & restores naturally present good bacteria for your cat's comfort
ADDITIONAL BENEFITS: 100% Natural ingredients such as Calc CarbD10+100C & DulcamaraD15+100C,

also help to reduce inflammation to all areas

NO-SIDE EFFECTS: This natural remedy can work alone or be taken while using other medications.
100% SATISFACTION GUARANTEE: Our natural remedy for cats comes with a 100% satisfaction guarantee. We stand behind our products and we highly value customer satisfaction.

CONTINUAL RELIEF:

For optimal results, use this cat infection treatment for 30 days
Ingredients
Calc CarbD10+100C, DulcamaraD15+100C, Hepar SulphD15+100C, LycopodiumD10+100C, Nat MurD16+100C, SulphurD15+100C, Thuja OccD10+100C
To get the best results, do this:
1-2 pellets (small cats), 3-5 pellets (larger cats) by mouth, or put in the food/water. 3 times/day **Pellets don't dissolve quickly in water, and it's ok. Your pet is still getting a dose of the remedy. For best results, use for 30 days.



All our products come with a 100% satisfaction guarantee. We stand behind our products, and we highly value customer satisfaction.
Our site provides information regarding health and wellness, it is not a substitute for professional medical advice. You should always consult with your doctor or health care provider regarding your health concerns, and read all directions and information on dietary supplements prior to use.
*Claims based on traditional homeopathic practice, not accepted medical evidence. Not FDA evaluated.
Additional Resources that Can Help You Optimize Your Pets Health 
Click on the images for more info on related topics!